Bab Ul Hawaij Islamic Centre provides Burial Services (Ghusl-e-Maeyat) at its Mississauga Location. The Ghusl e Mayat facility is operational with the help and support of volunteers.
It is without a doubt, that one of the most heartbreaking moments in our lives, is to bid farewell to someone you love or care about. It is our collective (religious) obligation being a member of Shia community to make arrangements of burial services.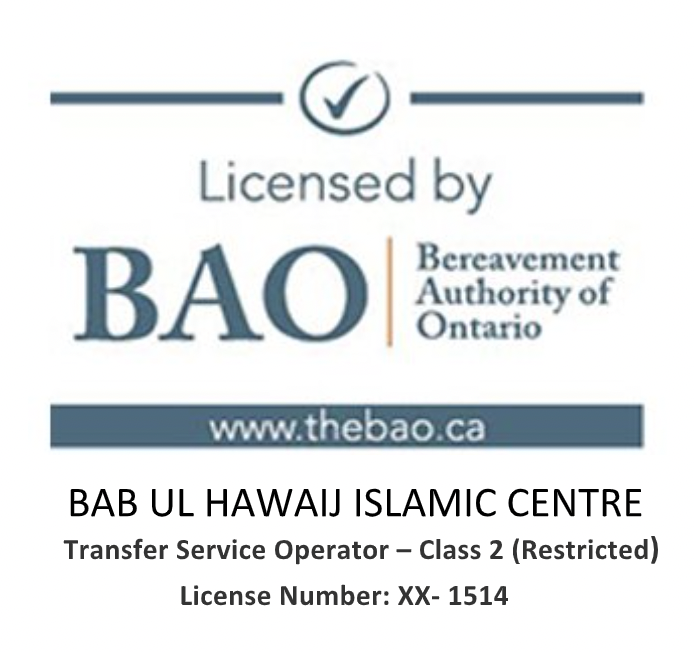 The BAO's Consumer Information Guide
Grave Pledge Registration
"Janaza" The Muslim Burial
The Bereavement Authority of Ontario (BAO) has issued Transfer Service Operator – Class 2 (Restricted) licence for Bab-Ul-Hawaij Islamic Centre. The licence number is 1514. This new restricted licence will allow Bab Ul Hawaij Islamic Centre to legally provide burial transportation services to our community members only.
Knowing our obligations, BHIC has completed all due formalities and is now offering (Shia community of GTA west in particular), fully Shia Burial Services.
It is wajib-e-kifai on every muslim to organize burial for a deceased muslim until one accepts the responsibility.
Our Services
Assistance in obtaining all necessary documents for release and burial (Tadfeen) of the body. Make arrangements for the body to be transported to the Bab Ul Hawaij for Ghusl e Mayyat holding room.
Learn more about Ghusl e Mayyat services.
Cemetery Information
Burial arrangements can be made at any of these locations, please note the cost for each location might be different.
13076 Leslie Street, Richmond Hill
Brampton Memorial Gardens
10061 Chinguacousy Rd, Brampton
3164 Ninth Line, Oakville
10992 Kennedy Rd, Markham
Contact Us
Call Bab Ul Hawaij Burial Service any time of the day, you will be speaking to a member of our Burial Service Committee. Simply call and we will promptly respond to your request. We will take down all your details and also give you the total cost of the Burial arrangement.
Shahid Jaffery
416 858 4535
Nadeem Rizvi
416 270 7188
Munazza Naqvi
905 502 0891
Amber Jaffery
905 267 1267
Hussain Rizvi
647 631 4847